EVENT DESCRIPTION
A TEA WITH BUTTERFLIES
Recreating an "impossible garden" of 500 square meters in the heart of Rome, a stone's throw from Villa Borghese, A tea with butterflies is a naturalistic route explained by biologists, designed and built in the SET space of Via Tirso, specially adapted to accommodate the ecosystem of hundreds of colorful native and tropical butterflies.
In an environment where the most beautiful and particular creatures of the world will fly free, among plants and wonderful flowers, it will be possible to stop and sip a quality tea – offered by the event – read, work or relax in a floral frame of rare beauty.
Inside the space will be biologists able to provide everyone, young and old, explanations on butterflies and their wonderful biological cycle.
The scientific care is entrusted to the entomologist Prof. Enzo Moretto, director of the Esapolis Museum of Padua and collaborator of the Rai Geo & Geo program, one of the greatest international experts in butterflies.
The metamorphosis, the typical flight of the butterflies, the colors and the geometries of the wings are from the ancient world an inexhaustible source of inspiration in art, symbology, literature, aesthetics and decoration. Important cultural references to discover in the path of the event along with the history of the discovery and spinning of the Silk thanks to the precious baco.
Information: info@teconlefarfalle.it
A tea with butterflies is the perfect location where you can book breakfast, sip a particular cappuccino or choose from the best teas in the world accompanied by high biscuits.
In the evening, the most original theater for aperitifs, Happy hour with Butterflies, private and corporate social events, dinners.
Ticket info: 06 5895661
General information: info@spazioeventitirso.it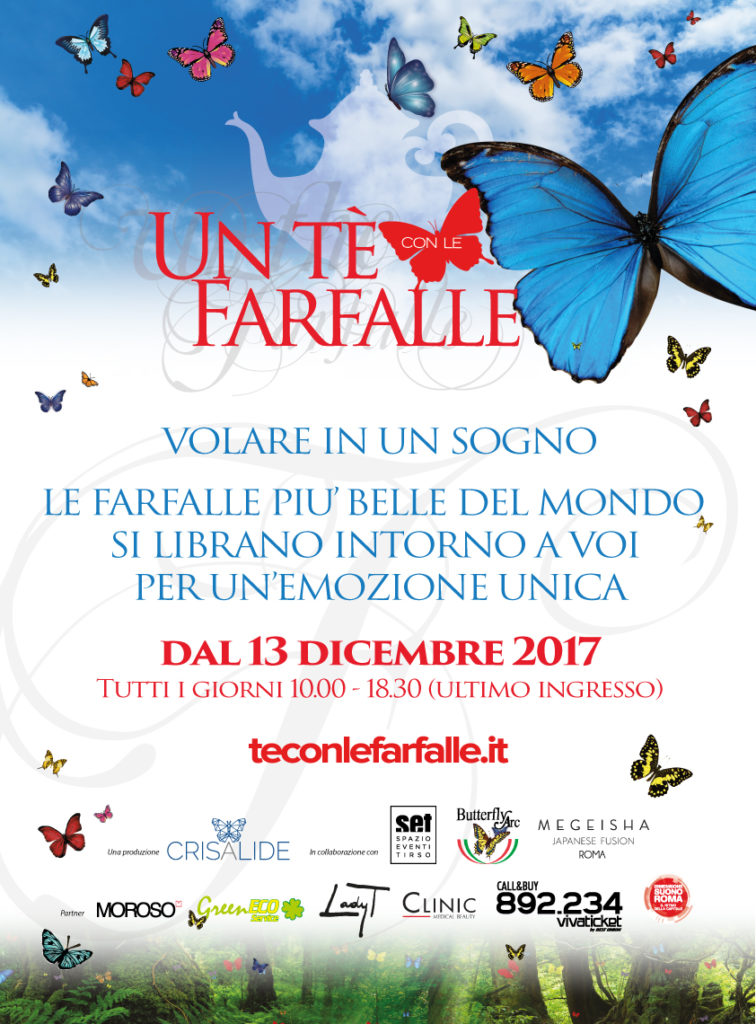 EVENT DETAILS
Date : 13 December 2017
Tags : Events